English as an Additional Language (EAL) and International New Arrivals (INA)
Hello, Nǐ hǎo, Bonjour, Guten tag, Namaste, Salve, Cześć, Olá, Zdravstvuyte, Hola, Hujambo, Merhaba,
Our language of the half term is...Chinese (cantonese)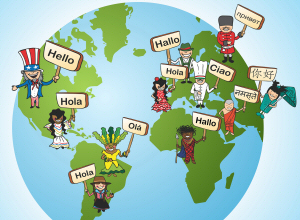 At St Ann's CE Primary we have a number of children whose first language is not English, and we have decided to introduce 'Language of the Month'.
Each month we will introduce a new language that is spoken by children in our school. We believe it will give children the opportunity to show respect for each other's languages and cultures and it will also give us all the opportunity to broaden our skills!
We hope you will have fun learning new key words and phrases in different languages from around the world.
At St Ann's CE Primary
At St Ann's CE Primary and Nursery School, over a quarter of our children have English as an additional language (EAL), with many speaking two or more languages in their daily life. In 2022, our annual census showed 19 languages other than English spoken by children in our school. Here at St Ann's we acknowledge the value of children being fluent in more than one language and the additional dimensions it brings to children's social and cultural development.
Our 'language of the half term' initiative celebrates this diversity. Children throughout the school have the opportunity to explore other languages and learn and practice basic vocabulary such as greetings, numbers etc. often modelled by other children or adults within our community.
We carefully monitor and track the progress of pupils with EAL to ensure they are not disadvantaged and recognise that a number of our children require additional support to acquire the same competence in English as in their home language(s). This support is provided in class through carefully differentiated work and, where appropriate, through additional support with a member of staff.
Here at St Ann's we regulary welcome children and families who have recently arrived in the UK from other countries. We quickly put support in place to help them socialise with their class, so they can begin to make progress in their learning across our complimentary spiral curriculum.